Quality Management System
---
Quality Management System Overview
Resindion is a global company with sales, manufacturing, and distribution direct-managed processes. The facility has quality system that adheres to the requirements of ISO 9001 and has received third party accreditation.
Where it is necessary Resindion has the capabilities and resources needed to address regulatory requirements such as REACH submissions and site specific declarations to the appropriate governing body.
Resindion Quality Manual provides information on the elements of the Quality Management System including the sequences and interactions of the primary business processes.
Resindion Quality Policy can be found herebelow.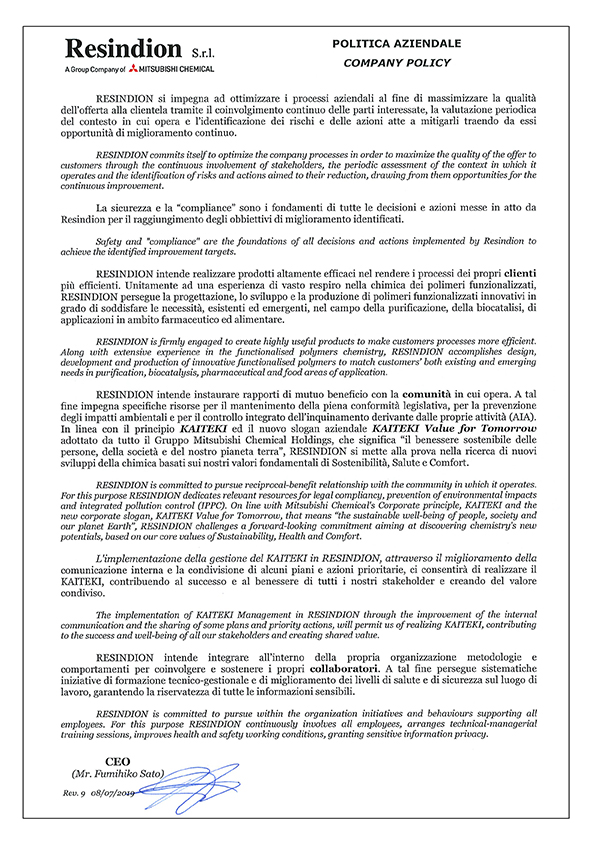 Document Control
Quality Management System policies, procedures, and records are maintained under document control as appropriate. Document management system describes the level of document control necessary, and may include documentation relating to administration, manufacturing, analytical methods, equipment operation and other areas as defined.
Training
Resindion has established training programs that include core and job specific requirements. Core training can include quality system, safety and developmental topics. In addition to job training, each position has a written job description that describes the necessary educational and experience qualifications to adequately perform the required tasks.
Corrective and Preventive Action
Resindion has established a Corrective and Preventive Action system to identify areas for improvement to current products and processes, and also to eliminate nonconformities or prevent reoccurrence.
Customer Complaints
Customer complaints are communicated to the Marketing Manager for resolution. Specific procedures exist to define the process for complaint investigation, correction action, as well as any actions necessary to accomplish field corrections or recalls. In the event of a recall, affected customers will be identified and contacted.
Audits
Internal audit programs have been established to ensure the integrity and continuous improvement of the Quality Management System. Customer quality audits are permitted at our facilities. We request that adequate notification be provided (date to be agreed) and that an agenda be sent from the customer within 2-weeks of the requested audit date(s). Resindion reserves the right to cancel or revise the audit schedule. Resindion is willing to offer full cooperation to all requests for Government or regulatory audits.
Supply Chain
Our supplier's (materials & services) can be qualified using a combination of criteria such as, assessment questionnaires, on-site audits, historical performance (quality, on-time delivery) and/or third party accreditation. A supplier may become "Rejected" after non-compliance with the Resindion expectations. New and alternate suppliers are qualified as necessary to maintain product supply, purity and competitiveness.
Process Control
Documentation exists for providing appropriate instructions for producing and testing final product. If changes to the manufacturing or testing process is warranted the work instruction document(s) will reflect the procedural change and approval. Critical equipment, defined as a piece of equipment whose failure could compromise the quality, performance, or functionality of a product, is maintained in a calibration and testing program. Documented procedures exist for equipment operation, calibration and maintenance, and can also include how equipment is cleaned. Where required, equipment and usage records are maintained and available. Equipment tags are also employed to further indicate equipment calibration and maintenance status. Appropriate quality records for a product's lifecycle within Resindion are maintained and available. Quality records can include: customer communications including orders and complaints, raw material information, in-process manufacturing and testing data, packaging, final quality analysis, batch disposition, training and equipment. A product and batch identification system is employed to allow for traceability throughout the entire process.
Specification Control
For most incoming materials from our suppliers, Certificates of Analysis are received and reviewed. In addition if warranted, incoming materials may also pass through a physical quality inspection and review process. These materials will be maintained in a "Quarantined" status until the review is complete. Research and Development, Manufacturing, Quality Control, Quality Assurance, Compliance, and Product Management/ Marketing functions are all involved with establishing product specifications. Customer and regulatory requirements, market demand, and process capability are considered in specification development.
Accessibility and Control
The majority of general product's specifications are available to our customers and employees. A product specification is considered a controlled document, in either an electronic format and/or in hardcopy, and is handled as such, with revision control, approval and issuance. Any special customer specification(s) are maintained as confidential. Confidential specifications are disclosed only to personnel who are authorized access as part of their job function.
Change Management and Notification
Processes exist to manage internally driven changes including final product specifications. If a Change Notification Agreement exists between Resindion and a customer, communication of the change will be initiated.
Product/Batch Documentation
The majority of Resindion products have established product specifications. A product's specification information may be found on the Certificate of Analysis and on catalog listing. Certificates of Analysis report batch level information including:
Batch number;


Analytical test results;


QC release date;


Shelf-life (if available);


Authorization signature from Quality responsible that released the batch.


Certificates of Analyses are included in the shipment, along with MSDSs. For inquires concerning batch information, there is no guarantee that the request can be fulfilled if the batch is more than 5 years past the release date and the customer's inquiry request is greater than 1 year after the order date.
Analytical Test Methods
A number of the analytical methods used by Resindion Quality Control to test products are available. Resindion reserves the right to disclose certain information under a Confidentiality Disclosure Agreement depending upon the request.
Retainers
Retained samples are available for all batches and may be used for retest purposes. Sample quantity availability and retaining period are product specific.